Home has taken on a more robust role than ever during the COVID-19 pandemic, as many people find ways to work from a spare room, home office, or even their kitchen table. These incredible backyard studios are some of the most unique and creative takes on what 'working from home' can look like.
After working from home for over a decade, Canadian architect Randy Bens found himself in need of a little more breathing room to accommodate the growth of his New Westminster–based architecture practice. Rather than rent an office, Randy decided to maintain his no-commute lifestyle by transforming an industrial shipping container into RBA Studio, a cozy 350-square-foot backyard office.
Oliver Dang, architect and founder of Six Four Five A, typically works from home, but his rambunctious toddler made him recognize the need for more space with fewer distractions. Instead of immediately turning to office rentals, however, Oliver built a 100-square-foot workplace in his own backyard in Toronto, Canada.
Almost four years ago, Hungarian design studio and educational platform Hello Wood began building prototypes of a tiny cabin that they dubbed Kabinka. Over the years, these prototypes were put to the test by architecture and design students taking part in the Hello Wood summer school. The studio then developed a flat-pack version of the cabin, and it's now available for purchase as an affordable, self-build option for a weekend retreat, backyard guest room, or private office.
Architect Bulent Baydar, of
Harrison Design
, devised this studio for screenwriter
Matthew Michael Carnahan
's home in Arlington, Virginia—and although it was never in the plan, it's as much an entertaining space as it is an office. "Matthew had been working in his basement," Baydar says. "He's the father of three young daughters, and he needed a quiet place away from the hustle and bustle of the family where he could write." Carnahan commissioned the architect to imagine a freestanding structure in his rear yard that would provide peace and quiet—and plenty of sunlight.
San Francisco–based architect Beverly Choe transformed an old garage on the site of a carriage house into an open and meditative backyard studio where a family can easily retreat to work, relax, and create. The result is a "box of suffused light" that feels airy and minimal yet warm and personal, thanks to plenty of rugs, greenery, and handmade ceramic vases.
A Wellington, New Zealand, couple loved their neighborhood of Berhampore, but found that with two young sons, they were running out of space. They called on Parsonson Architects to devise a solution, which came in the form of a 183-square-foot studio in the backyard of their two-bedroom Victorian cottage. "Set against a backdrop of mature trees at the end of the garden," says founder Gerald Parsonson, "the new studio provides extra space for play, study, and sleeping."
Proving beautiful design can be achieved in small spaces and on a small budget, architect Richard John Andrews crafted a modular home office for his backyard in East London. Building the bespoke studio was a challenge—Andrews had a limited budget, space constraints, and site conditions necessitated lightweight materials. But Andrews, who preferred the flexibility of a self-build, knew the endeavor would be worthwhile.
In the backyard of a downtown Toronto home, local design practice Anya Moryoussef Architect has transformed a single-car garage into a multifunctional, light-filled workspace that cleverly belies its compact 325-square-foot size. The client—a former architect who now works from home as a screenwriter and art director—set high demands for the small space. He requested not only a workspace and a separate sitting room, but also plenty of storage for his art collection and scripts, as well as room for his golden retriever, Ollie.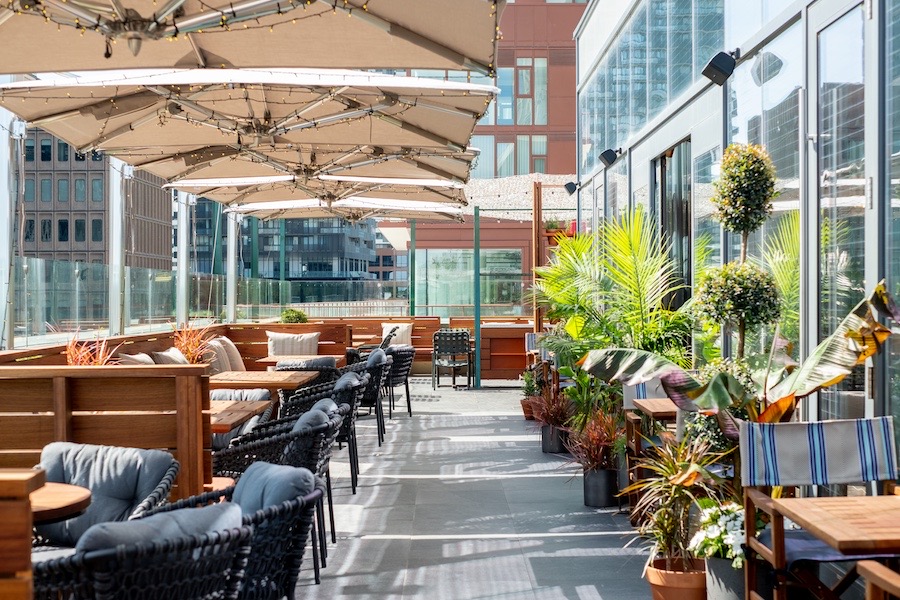 Nowhere else are the playful aesthetics of Los Angeles design/build studio Knowhow Shop best expressed than in Lighthouse, their recently completed office in Highland Park that doubles as a striking showpiece. Sharply angular and experimental, the 154-square-foot microbuilding pulls inspiration from a variety of sources, including boatbuilding.
Which of these unique backyard studios is your favourite?! Share your thoughts on my Facebook or Instagram page, or leave a comment below!